:: Bed and breakfast ::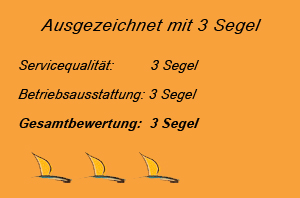 We offer our guests beautiful rooms with shower, WC, hairdryer, balcony, satellite TV, fridge, heating and also a living room. In addition, there is a fridge in our community room, where you can put your cooling elements. For a joyous beginning of the day, we serve you a large, varied breakfast-buffet, including fresh bakery goods, sausage, yoghurt, muesli, orange juice, coffee, tea and much more.




In the evening, you have the opportunity to have a barbecue party in our garden and a table tennis match. For the youngest of our guests there's a playground with swings, a slide and a sandpit.




Enjoy the peace and quiet in the garden, relax in a deck chair or in the hammock and listen to the sound of nature.